May 4-10 is Children's Book Week!  Here at M&O, we went around the office and each picked one of our favorite children's books.  All of these are special to us and proved influential during our childhoods.  Read on to find out which ones and why!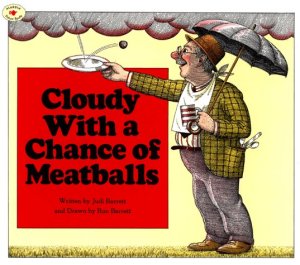 CLOUDY WITH A CHANCE OF MEATBALLS by Judi Barrett, illustrated by Ron Barrett
Amy:  This book captured my imagination (and my appetite) as a child in such an influential and memorable way that it immediately comes to mind as one of my favorite children's books.  My brothers and I would whet our appetites before dinner by poring over the delicious, precious few pages.  Sometimes I can't help but wonder if my eternal love for essentially all things edible manifested primarily due to my having been exposed to this book at such an early age.  Even before I knew how to read I was drooling over Ron and Judi's pancake rain, wondering why all that fell from New Jersey's spring sky was boring old water.  To this day, my sunsets are often accompanied, unbidden, by a superimposed, towering mold of Jell-O in all its shining glory.  Talk about leaving an impression.  At any rate, I'm still always up for a quick trip to the land of Chewandswallow!
JAMES AND THE GIANT PEACH by Roald Dahl
Michelle:  This was one of the first books I ever took out from the library, and one of the first books I could not put down 'til I finished.  I was absolutely wild about the book.  To be able to live and travel inside a peach… it's a most bizarre, exhilarating, and liberating experience reading it.  It was also a perfect story for me because my family had two peach trees in the backyard at the time.  The book changed the way I think about peaches forever!  My favorite part about the book is the ending, when everyone ate their way out of the peach.  Yum!  (P.S. All this talk about the book makes me want peaches now!)
THE PAPER BAG PRINCESS by Robert Munsch
Christa:  This is one of my all time favorite pictures book that has stayed with me since childhood and I mention it often! Princess Elizabeth plans on marrying Prince Ronald and living happily ever after, until a dragon burns down her kingdom and kidnaps the prince. Wearing just a ratty paper bag, she sets off to rescue him, only to find that she might be better off without the prince after all. Fun illustrations, lots of quirky humor, and a dash of girl power makes this one that I return to again and again.
GREGORY, THE TERRIBLE EATER by Mitchell Sharmat
Shira: As a child this was always my favorite book before bedtime.  Anyone in our office will tell you, I am to this day a picky eater with a terrible sweet tooth so this early childhood favorite still sticks with me.  With humorous pictures and frustrations galore, this is a book I love to revisit with my younger relatives.  There is something truly special about a very simple story that still appeals to so many kids over the generations.
PIPPI LONGSTOCKING by Astrid Lindgren
Alecia:  This is the story that launched my love of reading, although I actually never "read" the book.  My third grade teacher always ended the class 15 minutes early to read out loud to us and the story was of Pippi.  Since Pippi's adventures were like watching a movie, it made the story all that more fantastic!

THE TWO PRINCESSES OF BAMARRE by Gail Carlson Levine
Shannon:  This less well known but deserving of more love novel by the author of ELLA ENCHANTED is the first book that ever made me cry IN MY LIFE. The timid Addie and daring Meryl are princesses and sisters. When Meryl falls ill with the Gray Death, Addie puts her fears aside and sets out to find a cure to save the person in the world she loves most. All the stuff you love about fantasy with a little romance and a sister relationship that even made this only child emotional. You always remember the first book that really pulls your heartstrings, and this was definitely it for me.
What was your favorite children's book?  Let us know on Twitter @McIntoshAndOtis!